In lieu of the post that I was planning, instead I am going to skip past all sorts of pictures and videos - including PicVids from Elijah's birthday - and post about Kyrie's First Communion this past Sunday.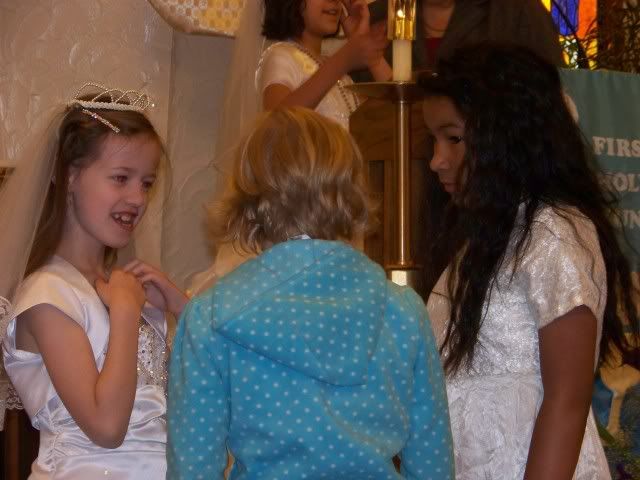 Here Kyrie is hanging out before Mass with her cousin Evelyn and one of her friends in the parish. I would tell you the girl's name, but she's an identical twin, and I can't tell them apart. One of them is shown here; the other one was the altar server.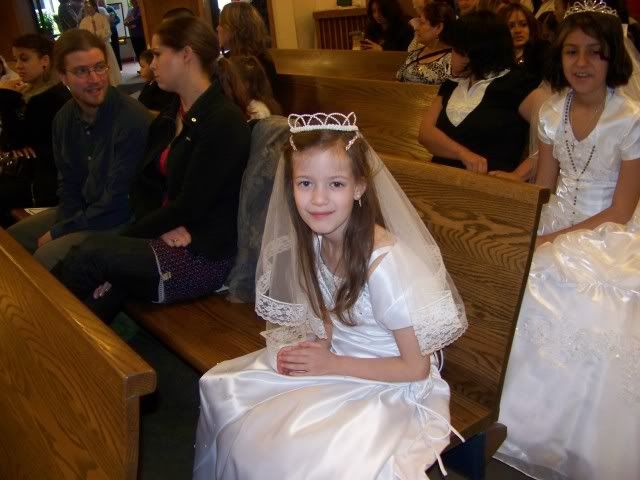 I snapped this shot, too, while waiting for Mass to start. She looked so beautiful, and I love her so much.
On the left are Kathryn and Anthony, Kyrie's godparents. They came out from Minnesota especially for this. Kathryn's mom married my dad last summer; that's why their daughter Evelyn is now Kyrie's cousin.
We bought her dress at a place called
Boutique 5 de Mayo
. It caters to selling gorgeous dresses and suits to the (very large) local Hispanic community, for baptisms, First Communions, quinceaneras, and more. More than one person commented on how all the girl's dresses looked like little wedding dresses, much fancier than the ones we remember having. I thought maybe it was a Hispanic thing, and Kathryn mentioned that at Evelyn's First Communion, all the girls had had pretty-but-little-girl type dresses, except for the one girl who was Hispanic, who had had a wedding-style dress. (Frankly, one of the reasons that I was shopping there in the first place was that I didn't want Kyrie to end up with a dress that she felt wasn't as pretty as the other girls' dress.)
I let Kyrie pick out whatever dress she wanted from 5 de Mayo. And she picked out some cute sandals with heels, and those two hair clips. She didn't like the way the veils fit, so we did not buy one there. This turned out well, because she used the same veil that Evelyn had used, which Kathryn herself and some of her sisters had used for their First Communions.
My one beef with the way things happened was that we weren't sitting with Kyrie. They had two kids to each pew, and the godparents were supposed to sit in the same pew, while the family was supposed to go find seats elsewhere. I had planned to sit directly across the small aisle from Kyrie, but it turned out that those were the rows reserved for Eucharistic ministers. So we sat a couple rows behind her, and across the aisle. I was not the only family who was not happy about that arrangement.
Kyrie got to do the first reading. I think the first part is really cute; you can tell that she practiced, because she recognized right away that what was in front of her wasn't what she had practiced. She just matter-of-factly turned pages until she found the right one.
And then she did a simply phenomenal job. And that wasn't from practicing, either. I mean, I'm sure practicing helped, but she never once sounded that good during practice. She always read too fast, and a few syllables would be too low to hear clearly. But when she got up there, she was paced nicely; she was clear; she could be heard throughout the church. One of her 1st Communion class teachers told me afterward she thought I had taken Kyrie home and practiced a whole bunch after the rehearsal last Wednesday, and was quite surprised to find that I hadn't practiced with her at all in that time.
I did pray for her, though. I'm thinking that has something to do with it. Also, I'm seriously thinking that maybe this means that God will be calling her to lector when she is older.
UPDATE: There was a cute thing during the homily, that I forgot to relate in the first draft of this post. Read about it here.
(You may want to turn the volume down a bit on this one).
All the kids were told to bring a basket full of things to give to the poor. Kyrie and I went to the Dollar Tree on Saturday morning to pick this up. Since she was set to receive her first Confession later that day, I asked her what she remembered about it. I think her answer was, "nothing". Um. Apparently the three or four months that her class had spent discussing it had gone completely out of her head. So we went back over the basics again.
While we were at the Dollar Tree, she really wanted to get something for herself, too. I didn't feel right about letting her get something, though. When we got back out to the van, I finally put my finger on what it was. I explained that sometimes we have to be willing to give to others even when we don't get anything back. So this time, I wanted her to give the basket to the poor without getting anything for herself. She seemed to take that to heart. (Or at least she stopped complaining about it). Afterwards, I thought there was a touch of the Holy Spirit going on in that interaction, although I hadn't been expecting it right then.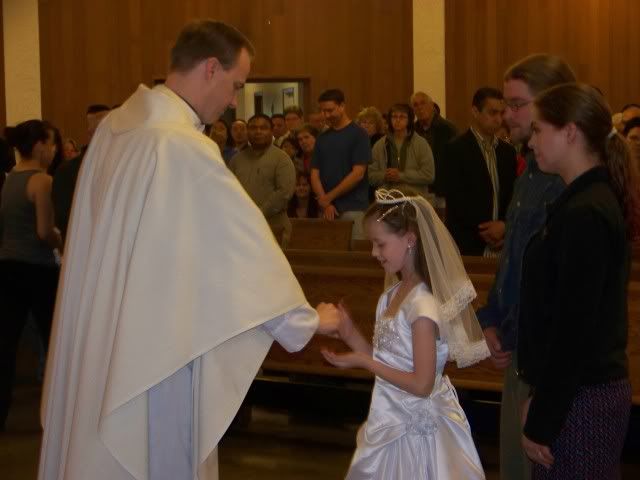 Kyrie receives the Body of Jesus for the first time. Yay! I get kind of squishy inside with excitement over this.
They arranged things by having the godparents stand behind each child as the child receives Communion. Parents were, generally, all in a huddle, doing the same thing as I was: snapping photos and/or videos. (Or, in my case, both, since I was using someone else's camera to do a video while using my own to snap a photo. Thanks, Eileen!) The church set up a little barrier that parents could stand behind for photo taking; it gave parents a good angle, while keeping us out of the way (for the most part).
A video of the whole class receiving. Kyrie is third.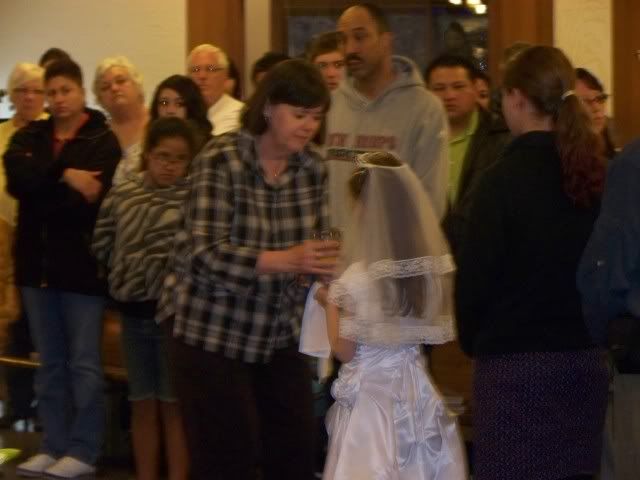 Kyrie receives the Blood of Jesus. (Someone reported to me afterward that Kyrie told them she did not like the taste, although she might get used to it.) It was hard to get a decent shot of this, since it was happening on the opposite side of the church from me.
And, of course, the obligatory song, performed by children and completely unintelligible to all the parishioners listening. I know the refrain because I heard it so many times before. (We sang it a couple times for our Music lesson in homeschooling, to help Kyrie learn it better.) I'm curious if anyone else can make out the lyrics for the refrain or not. As for the verses, well, I don't think even most of the kids knew *those*, haha. Not that it's not cute and all, but I kind of wonder why the effort even gets put into this particular part of the program. Maybe the "Music is important for the soul" part trumps the "The kids don't know the words and the listeners can't hear it very well anyways" part. Well, whatever. They're all cute, especially Kyrie with her big hand gestures. And the choir director made a point of telling me how lovely Kyrie's voice was.
Left to right, along the back: Viviana, Jessica, Fr. David, Attila, Omar, and Zoltan.
Along the front: Sapina, Kyrie, Mateo, and Raul.
I taught these kids for two of the classes last fall, and got to know them a bit, and I enjoyed seeing them all receive their First Communion.
Kyrie got presents from a lot more people than I was expecting. And 90% of them were rosaries. :D (Not really quite that high, but it was a lot. I think the nicest rosary came from her godparents; I will try to make her take special care of that one.) I thought that Grandpa Colin and Grandma Tina would appreciate watching Kyrie's reaction to opening their present. ("I love it!" she says as she hugs it to her chest.)
After that, Kyrie went out to OMSI with her godparents. All in all, it was beautiful and lovely and wonderful and all things good. :)